Postcards sent to Olive Dacy 
in La Crescent, 1910 & 1915
(postage was 2 cents)

donated by Olive Dacy Gershon 

Postcard, below, sent to Charles Lehman, 1917


donated by the estate of Mildred and Kenneth Evans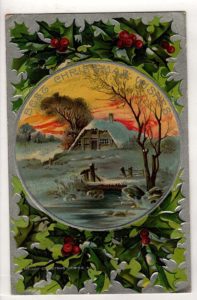 ---
Oral History Project Underway
We are interviewing elders in the La Crescent area about their lives.
Watch for more news about this vital effort.
---
Heritage House & Apple Museum
Over the winter we do not have "open" hours; instead, we are working to get the House ready to open again in the spring.
Please call us at 895-1857 to arrange a tour or to donate items.
---
VISION STATEMENT

We will be recognized and respected for preserving the cultural heritage of the La Crescent area. Our collection of artifacts and documents will be historically significant and accessible to the public. We will have the financial and material resources needed to house our collection. Our activities and events will involve many active volunteers, young and old, in collaboration with area businesses and organizations.