---




---

---

June 16, 1832
Nathan Boone and his survey crew
reach the area that is now La Crescent
This is a transcription from Boone's original field notes.
The field notes are in the National Archives.
T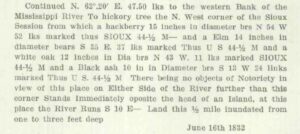 Click on 1832 LAND SURVEY at the top of this page to learn more
---
THANKS TO
LA CRESCENT ELEMENTARY SCHOOL

4TH GRADE CLASSES AND THEIR TEACHERS 


FOR VISITING on Monday, May 23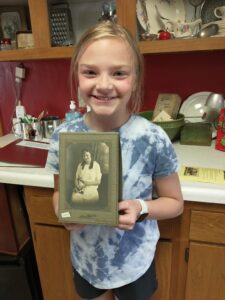 What a surprise!  Quinn Jore, 4th grader, 
saw her great grandmother's photograph on a display shelf.
May 23, 2022
---
The History Center and Apple Museum are open Saturdays 10 to 2.


Handicapped parking available behind
the big red shed.
TO ARRANGE A GROUP TOUR, CONTACT US   
507-895-1857  OR  LAHS1857@GMAIL.COM
________________________________________________________________________________________________________________
 IN MEMORY OF

Gordon M. Fay  1924-2022
La Crescent native
Past Recipient of the Historical Society's Heritage Award
His heart never left La Crescent

---
THANK YOU for supporting our participation in We Are Water MN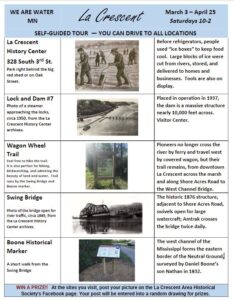 For More About We Are Water MN:  http://winonahistorical.org/wearewater
---
LEARN MORE: Click on 1832 LAND SURVEY  (top of this page)
GIVE US FEEDBACK:  Click on 

BOONE
Gratitude to Our Boone Project Partners
City of La Crescent
La Crescent Public Library
La Crescent Township
FUNDING


The project was made possible in part by the people of Minnesota through a grant funded by an appropriation to the Minnesota Historical Society from the Minnesota Arts and Cultural Heritage Fund. 
PROJECT ADVISORS

Don Borcherding, a licensed professional surveyor with 45 years' experience in land surveying, survey research, and survey history
Gwen Westerman, a scholar of Dakota history and language and a professor in English at Minnesota State University, Mankato
---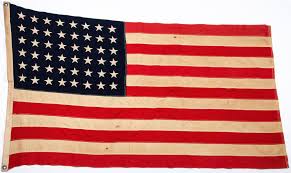 COMING SOON – Letters Home,
a downloadable exhibit
A community newsletter sent to service men and women from the area …
and letters they sent back to their hometown, La Crescent.  
---
ASK US ABOUT GROUP TOURS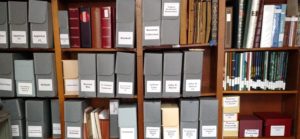 ______________________________________
We will be recognized and respected for preserving the cultural heritage
of the La Crescent area