From the Archives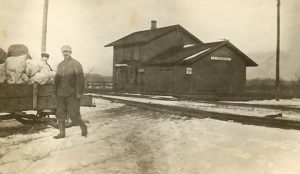 The Railroad Depot
In 1873, all railroads in Houston County were owned by the Chicago, Milwaukee & St. Paul Railway Company.
The first La Crescent depot was a 2-story building with the depot business on the first floor and the top floors rented as living quarters.  What was shipped?  Apple baskets, lumber, cement, fuel oil, strawberries, tomatoes, pipe for gas lines, telephone poles, and the products manufactured in La Crescent.  Cattle were also shipped because a stock yard was once located by the depot.
Ed Hurley was the agent/telegrapher from 1907 until 1955.
The first depot, shown above, was destroyed in a December 1938 fire; also destroyed were all the village records for the previous 12 years (Hurley was also the village clerk), and 12 sacks of westbound mail.  No one was at the station when the blaze occurred, but the family who had lived upstairs had moved out a few days prior.  After the fire, railroad officials decided that an old caboose would be used as a temporary station until a new building was erected.  The second depot did not include living quarters.
At one time there were passenger trains from Savanna, Illinois to Dubuque, IA to La Crosse.  These quit in 1953.  It was reported that one sleeper car tagged along with the freight train on trips to Austin (Minn.) to accommodate sales people from Hormel who needed to get back and forth to do business.  This passenger service ended in 1958 with one last run to Austin.
Bob Kies took over from Hurley in 1955 and remained until 1976.  The station closed in 1977.  Joe Ready purchased the depot building around 1986.  The restored building was moved it to its present site by 1989.
If you have more information about the depot's history, please give us a call or email us at lahs1857@gmail.com

---
We're on

Facebook



Click on the link at the top of this page


______________________________________
Oral History Project Underway
We are interviewing elders in the La Crescent area about their lives.
Watch for more news about this vital effort.
---
Heritage House & Apple Museum
Over the winter we do not have "open" hours; instead, we are working to get the House ready to open again in the spring.
Please call us at 895-1857 to arrange a tour or to donate items.
---
VISION STATEMENT

We will be recognized and respected for preserving the cultural heritage
of the La Crescent area